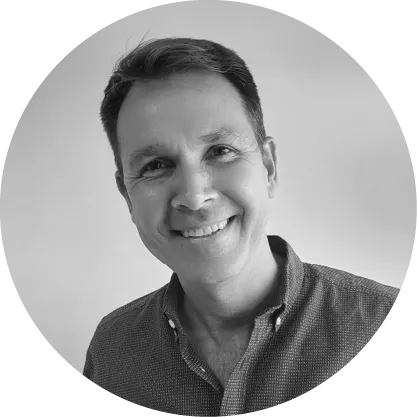 GRANT WEBSTER
CEO
What motivates him
The Group CEO, Grant is the consummate leader, taking calculated, yet daring risks to continuously grow the company and steer it through rocky economic times. He joined the Ignition team in 2020, and has been instrumental in driving both positive organisational and brand transformation, as well as conceptualising and executing various strategic projects. His absolute passion? Using his keen business acumen to move the wealth of businesses to scale.

On leadership…
A confirmed workaholic, Grant is often heard preaching the importance of work-life balance to the team. But, he's the first to admit that achieving this kind of balance for him, is a constant 'work in progress'. Grant prefers to lead by example, never asking for more than he himself, is willing to give.

Swimming against the tide
So, what does our Group CEO do when he does take time out? You'll find him right next to the big, blue ocean - spending some quality time with his nearest and dearest. If you want to work your way into Grant's heart, just give him a great cup of coffee and perhaps, an occasional ice-cream treat!
Reach out to Grant Email: grant@ignitionmarketing.co.za Cell: +27 82 772 9558 Office: +27 10 593 6400
WHY USE IGNITION
#WEBRAND

LEVEL 1 B-BBEE ACCREDITATION

NATIONAL FOOTPRINT

BEST INDUSTRY PRICING

OVER 20 YEARS EXPERIENCE
TOP CATALOGUES TO SHOP
WORLD-CLASS PRODUCT RANGES WITHIN THE INDUSTRY
SOME OF OUR HAPPY CUSTOMERS