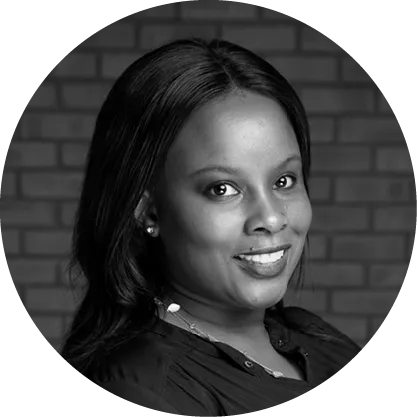 NTHABISENG MOTHAPO
Financial Director
You can't put a price on great experience…
A vital part of the Exco Team is Nthabiseng, who has been a key member of the team for over 15 years. According to Nthabiseng, she has gained a wealth of experience during this time that simply cannot be expressed in monetary terms. Working through the ranks from being the sole accountant in the business, to managing a finance team in three different regions, she oversees all aspects of day-to-day operations pertaining to the accounts department.

Grounded… in family values
Nthabiseng confirms that one of her greatest joys is working with a company that is led by strong family values, among these, honesty, transparency, helpfulness and a high level of sincere interest in the welfare of the team and clients.

What's equally important to her is the fact that the leadership team is always on hand, with support and help wherever needed. Never satisfied with just a 'great' job, Nthabiseng always strives to meet, beat and exceed her highest expectations. Especially when it comes to continual professional development. "I hope to further my career with more courses and qualifications, expanding both my accounting and management skill sets even further," she says.

Still waters… that run deep
One of the most charming aspects of Nthabiseng's personality is her quiet nature. "I may be quiet on the outside, but inside my head there's always a big-time conversation going on," she quips. Still waters do run deep!
Speak to Nthabiseng Email: nthabi@ignitionmarketing.co.za Cell: +27 73 617 6575 Office: +27 10 593 6400
WHY USE IGNITION
#WEBRAND

LEVEL 1 B-BBEE ACCREDITATION

NATIONAL FOOTPRINT

BEST INDUSTRY PRICING

OVER 20 YEARS EXPERIENCE
TOP CATALOGUES TO SHOP
WORLD-CLASS PRODUCT RANGES WITHIN THE INDUSTRY
SOME OF OUR HAPPY CUSTOMERS